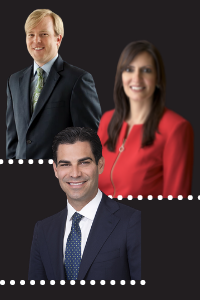 What You Missed: Florida Caribbean Virtual …
Virtual Events Posted by Jen Greco on Jun 17, 2021
Headlined by Florida's top officials, including a welcome address from Lt. Gov. Jeannette Nuñez, a message from Miami Mayor Francis Suarez, and a live keynote with CIO Jamie Grant, the Florida & Caribbean Virtual Cybersecurity Summit was deeply insightful and offered the hundreds of IT professionals in attendance.
Here are a few of the highlights, in case you missed it
CIO Grant Keynote: 
As a legislator, Jamie Grant pushed a bill that created the Florida Digital Service. Upon his August 2020 appointment to Chief of Information under Gov. Ron DeSantis, he was put in charge of the Florida Digital Service. And in his post, he's been working on transforming the way Florida is run from a technology perspective.
"I think the next frontier of government reform is everything we're talking about here in the Digital Service; how we deliver data-driven government so that you can get out of the political noise and the qualitative and conclusive statements and get straight to math, to show a dollar spent here has X impact versus Y impact," Grant said.
In his keynote and live Q&A session, Grant offered his plans and anecdotes for the state's cybersecurity posture. Grant's mission is to move policy forward with the Digital Service's rule-making authority, with the ability to focus on "The Five Rules" — project oversight, cybersecurity, the state data center, cloud-first and enterprise architecture.
"We're going to do policy the same way I would write software … it's going to be interactive, it's going to be agile, and it's going to be perpetual. There is no finish there," Grant said.
CISO Panel:
Our panel of CISOs from across Florida and the Caribbean talked about digital nomads, and the shift of the workforce out of the office and into everywhere else in the world — and what that means for organizational security.
"BYOD is inevitable as we move more toward a SASE model and cloud-based applications," said Jim Routh, former CISO at Virsec. "More and more virtual micro-segmentation technologies and capabilities are maturing … We'll see a lot of using your own device, but making sure your session is a unique, controlled session where there's no data exchange."
They also dove deep into ransomware — a hot topic following the Colonial Pipeline and the JBS attacks. Particularly, whether or not having cyber insurance actually brings on cyber attacks — and the new requirements of cyber insurance companies as more and more ransoms are being paid.
"They're putting in terms and conditions during renewals — and they had a very long checklist of required security controls that we had to have in place," said Kate Mullin, CISO for Healthmap Solutions. "We're now proactively looking at what additional controls we need to implement in advance of the requirements they're going to build in next year."
The panel of five CISOs also dished out their best tips on how to succeed in cybersecurity.
"I was working in customer service for an internet service provider, and I was noticing how easy it is to see all the customers' information — their credit cards and their addresses that we had in our databases," said Perla Rolon, CIO for the Retirement System at the University of Puerto Rico. After getting an email from a teenage hacker, letting the organization know about their security flaws, Rolon felt the spark for security leadership. "That's when I learned that I needed to do something about it."
Upcoming Events:
The Data Connectors team will be back in Florida on November 9-10 for our Miami Cybersecurity Conference. Stay tuned for additional details about this live, in-person experience.
Next week, Data Connectors will be hosting the Capital Region Virtual Cybersecurity Summit. This two-day online event kicks off on June 23, and will also include the US  Secret Service's Global Investigative Operations Center's Romance Scams Symposium.  Register today to ensure your spot.
Attend an Event!
Connect and collaborate with fellow security innovators at our Virtual Cybersecurity Summits.