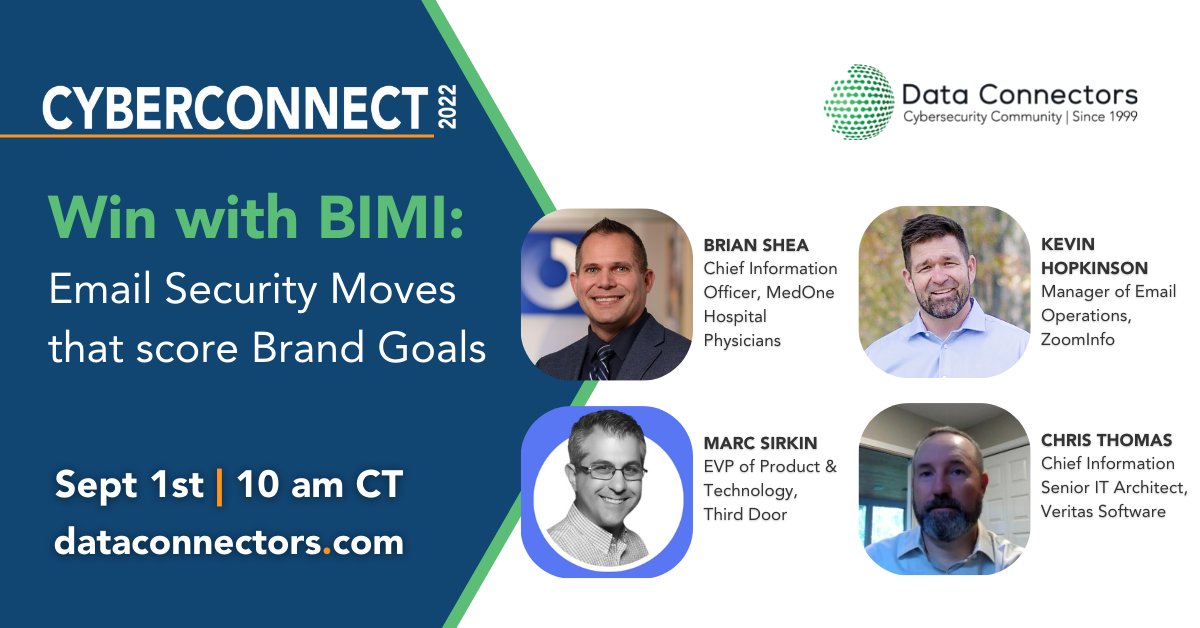 It's not often that you find something both marketing and security teams will find equally exciting – but then, BIMI happened.
BIMI, or "Brand Indicators for Message Identification," allows email senders to have a logo or image of their choosing displayed next to email messages they send to participating mailbox providers, according to DMARC.org. DMARC is Domain-based Message Authentication, Reporting & Conformance – an email authentication protocol – which allows owners to protect their domain by spoofing.
LOOKING TO LEARN MORE ABOUT BIMI? Join the CyberConnect Web Briefing on Sept. 1, 2022 at 10 a.m. CT, featuring speakers from Red Sift and Entrust, along with a panel of expert speakers who will offer their insights on this important certification. Register here.
Realistically, according to Brian Westnedge, Senior Director for Alliances and Partnerships for Red Sift, BIMI is a bit of a treat that companies get for implementing DMARC.
"I think BIMI is the intersection of IT and Security teams and marketing. It's something they can work on together; it's something where it benefits both sides of the organization," Westnedge said. "BIMI is the reward for doing the hard work of DMARC."
As brands like Apple, Google and Yahoo are implementing BIMI onto their email clients, more and more companies are receiving the certification – but they're still in that "early adopter" phase. Often, smaller and medium-sized companies are the ones who have the logos attached to their domains, Westnedge.
For those on the marketing team, they'll likely be excited by the prospect of seeing your organization's logo popping up in customers' inboxes – but more than that, this will aid tremendously with the deliverability that comes with the resulting authentication.
According to Red Sift's blog post on the topic, organizations who want to qualify for BIMI must first:
Obtain DMARC compliance

Have a trademarked logo

Have a Verified Mark Certificate from an approved Certification Authority.
In their partnership with Entrust, Red Sift has focused on guiding their customers onto the pathway of BIMI certification. And while it is not considered a security standard, it's certainly on track toward becoming vital for organizations to have a successful deliverability and authentication strategy.
Brian Shea, the Chief Information Officer for MedOne Hospital Physicians, will be joining the Win with BIMI panel at the upcoming Web Briefing. In his view, the implementation of BIMI and other similar certifications are going to be a crucial element for both marketers and security teams.
"Due to the continued increase in cybercriminals targeting email communications, implementing DMARC along with BIMI is becoming a more important thing when considering overall security, reputation, visibility and trust. It's going to become not a should have vs a must have," Shea said.
As more attention is drawn toward BIMI, organizations looking for another reason to implement DMARC should attend the interactive session, which will be packed with thought leaders on the topic, Westnedge said. Join Win with BIMI on Sept. 1 at 10 a.m. CT. Space is limited, so be sure you sign up.
Recent news posts
This is a sample blog post title.
Laid-Off Tech Workers Could Consider Any of the Nearly 800,000 Open Cybersecurity Jobs
Attend an Event!
Connect and collaborate with fellow security innovators at our Virtual Cybersecurity Summits.