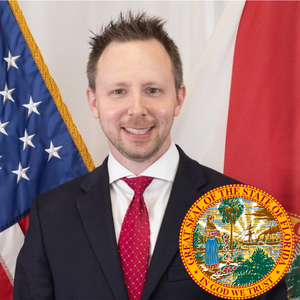 Florida CIO, CISO Lay Groundwork for Improv …
Industry News Posted by Jen Greco on Mar 11, 2022
The Florida Digital Service (FL-DS) – the cybersecurity arm of the nation's third most populous state – has experienced a full revival of information security since the passage of the 2021 law that brought it to life. 
This bill put the state's Chief Information Officer Jamie Grant in charge of the FL-DS, where he quickly began assembling a team and a strategy for developing the state's official Security Operations Center.
In his move from the private sector to the state government, Grant told a Data Connectors audience in 2021 that it's vital to run this new department as he would a business – and with that, comes the vital roles of running a business with smart hiring. One of the most recent editions to the FL-DS has been Chief Information Security Officer Jeremy Rodgers.
Rodgers comes to lead the state's cybersecurity efforts with more than 20 years of experience, including time spent as a Navy Reservist where he handled operations at US Cyber Command and as a Cyber-Intel Division Officer. He also spent several years working at IBM, Rodgers said.
Upon bringing Rodgers onto the team, Grant lauded his accolades. "Our relentless pursuit of top tier talent continues to pay off with the addition of Jeremy to the FL[DS] team. With the support from our partners in the Florida Legislature, FL[DS] has consistently increased and strengthened Florida's digital capabilities. The depth and breadth of Jeremy's experience makes him uniquely qualified to lead our cybersecurity team and implement additional innovations across the enterprise," Grant said in a press release. 
Rodgers has been digging into the role since he officially joined the team in January 2022, and he said he's been finding that he and his team have their work cut out for them, as previous state policy hadn't been so aggressive on ensuring cybersecurity as it has been with this legislature and governor. For them, it's meant that they're not relying on moving out old systems, but rather starting with fresh software rollouts.
"We have a unique opportunity at the most important stage of development," Rodgers said. "We're so far behind on developing our security team, that we're ahead."
Rodgers, who officially joined the team in January 2022, said that Florida's status as a higher-profile state makes it in a unique position.
"Florida has become a leader among states … and that makes us a target for cyber attacks," Rodgers said in an interview with Data Connectors. "We're on the radar, and we know we're a topic."
Rodgers will be joining the Tampa Cybersecurity Conference on March 15 at the Water Street Marriott, alongside CIO Grant, Tampa Mayor Jane Castor and an extensive lineup of other public and private-sector speakers. Rodgers said he's looking forward to connecting with the cyber professionals in attendance to learn their challenges and opportunities. Register here.
Recent news posts
This is a sample blog post title.
Laid-Off Tech Workers Could Consider Any of the Nearly 800,000 Open Cybersecurity Jobs
Attend an Event!
Connect and collaborate with fellow security innovators at our Virtual Cybersecurity Summits.