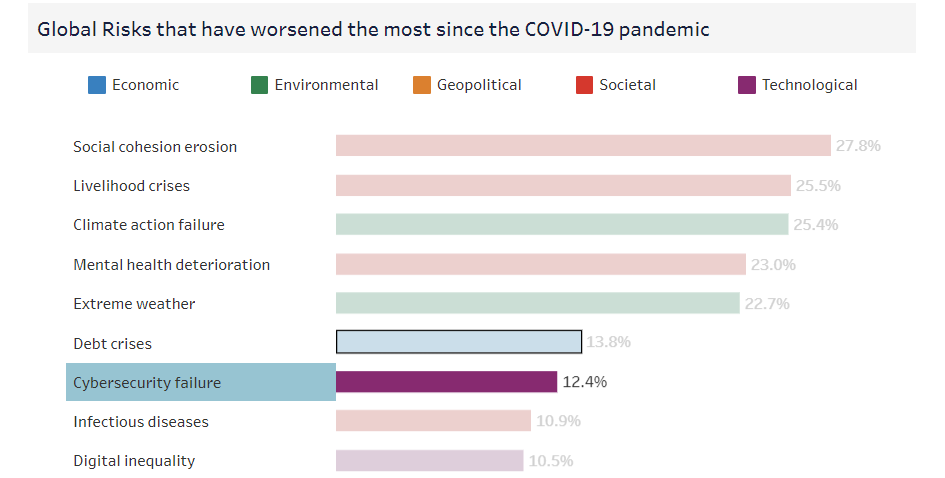 Cybersecurity Failures Among Top Internatio …
Industry News Posted by Jen Greco on Jan 13, 2022
If you were feeling optimistic about the direction 2022 is going, the World Economic Forum's "Global Risk Report" is here to quell that sunny disposition.
While this annual release may not cross most cyber execs' desks, it contains a statement that many in the industry already know: cybersecurity is among the world's greatest vulnerabilities.
This analysis – the result of survey data from 1,000 global leaders in both policy, business and economics – found cybersecurity to be a major risk in both the short- and medium-terms. In fact, "cybersecurity failures" beat out "infectious diseases" on the topic of "global risks that have worsened since the Covid-19 pandemic."
Nearly 20% of the respondents cited "cybersecurity failures" as both significant and growing on an international basis. However, cybersecurity wasn't widely considered among the longer-term threats. In the current pandemic climate with a "growing dependency on digital systems," the report's digest  stated:
" … [C]ybersecurity threats are growing and outpacing societies' ability to effectively prevent or respond to them. Attacks on critical infrastructure, misinformation, fraud and digital safety will impact public trust in digital systems and increase costs for all stakeholders. As attacks become more severe and broadly impactful, already-sharp tensions between governments impacted by cybercrime and governments complicit in their commission will rise as cybersecurity becomes another wedge for divergence, rather than cooperation, among nation states."
Respondents seemed to support the idea that there has been no collective international mitigation when it comes to cross-border cyberattacks and related misinformation, according to the digest.
"Converging technological platforms, tools and interfaces connected via an internet that is rapidly shifting to a more decentralized version 3.0 are at once creating a more complex cyber threat landscape and a growing number of critical failure points," the full report stated. "As society continues to migrate into the digital world, the threat of cybercrime looms large, routinely costing organizations tens—even hundreds—of millions of dollars. The costs are not just financial: critical infrastructure, societal cohesion and mental well-being are also in jeopardy."
Recent news posts
This is a sample blog post title.
Laid-Off Tech Workers Could Consider Any of the Nearly 800,000 Open Cybersecurity Jobs
Attend an Event!
Connect and collaborate with fellow security innovators at our Virtual Cybersecurity Summits.