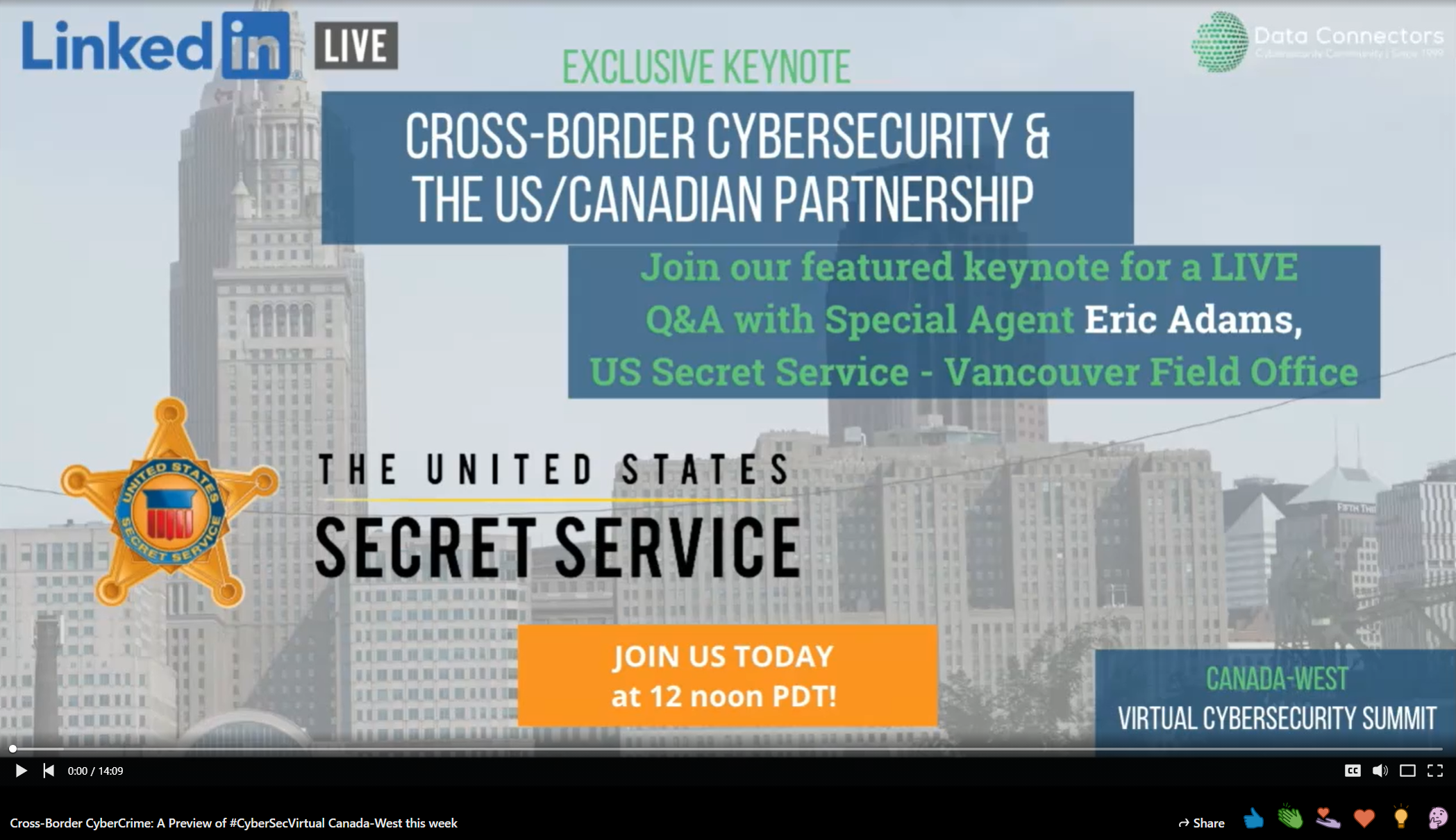 Sneak Preview: Security Across Borders with …
Virtual Events Posted by Jen Greco on May 11, 2021
The two countries boast the world's longest land border, but when it comes to cybersecurity, the United States and Canada share so much more.
In a Q&A session, broadcast on LinkedIn Live on Monday, May 10, I was joined by Special Agent Eric Adams of the U.S. Secret Service from the Vancouver Field Office, where we discussed the agency's mission in its dealings with Canada.
Adams will be holding a joint keynote session with Sergeant Graeme Sloane of the Calgary Police Service where they discuss the partnership between the agencies to ensure the safety of their citizens. During this special session, the speakers will be live and interacting with the Summit audience by answering your questions.
Have you gotten a chance to claim your spot for this talk? Register for the Canada West Virtual Cybersecurity Summit. Then, be sure to log in on Wednesday, May 12 by 12:20 p.m. PDT so you can catch this informative session.
During yesterday's livestream, Adams delved into the role of the Secret Service  — beyond the typical mission of protecting the president.
"The mission of the Secret Service, both domestically and abroad, is the same.  And that mission is to safeguard the nation's payment systems and overall financial infrastructure, which helps us to preserve the integrity of the economy," Adams said during the live session.  "We're able to accomplish this in our foreign offices by working with the world's law enforcement community  by developing and forging partnerships and by providing guidance and expertise to safeguard those financial infrastructures through what we call a cross-border partnership."
Did you miss the LinkedIn Live session? Catch the recording on the Data Connectors LinkedIn page. And, be sure to follow us so you don't miss out on more of these live sessions with experts from across the industry.
Recent news posts
This is a sample blog post title.
U.S. Marshals Hit with Ransomware Attack; LastPass Continues Damage Control
Attend an Event!
Connect and collaborate with fellow security innovators at our Virtual Cybersecurity Summits.